About Our 4-H Program
Our 4-H program provides a creative a supportive environment in which culturally diverse youth and adults can reach their full potential. Our local county program works to develop life skills to help young people become self-directed, productive citizens. We also work to empower adult volunteers who multiply the efforts of our local county Extension staff.
The need for youth to gain basic life skills that will assist them to become knowledgeable, productive citizens, is among one of the counties major concerns. Teaching life skills will help youth become better communicators, more effective leaders, enhance their organizational and management abilities, improve self-motivation and self-esteem, foster cooperation and teach responsibility.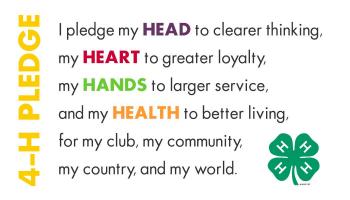 Enrolling in Lincoln County 4-H
The Lincoln County 4-H enrollment period begins October 1st of each year and ends March 1st of each year for youth ages 9-19.
The sooner you enroll, the more you will benefit from the 4-H Club experience and the more time there will be to work on 4-H Projects. Winter months are especially good for working on indoor projects.
4-H is a family program and youth do not need to have an animal project to be in 4-H. The success of the program is in direct proportion to the family support of the youth's involvement.
There is a special program called "Cloverbuds" for children 5-8 years of age. It is a parent/child family enrichment program.
You must enroll through a Club's Organizational Leader. There are clubs in Capitan, Carrizozo, Hondo, Corona, and a club is being organized in Ruidoso. Clubs might have a membership capacity limit so please call the Organizational Leader of your choice for club membership information.
The following are the specific age requirements per group:
CLOVERBUD: Ages 5 to 8 years old.
NOVICE: Ages 9 to 11 or age 8 and in the 3rd grade prior to January 1 of the current 4-H year.
JUNIOR: Ages 12 to 13. A 4-H member must have passed his/her 12th birthday or be 11 years old and in the 6th grade but not have passed his/her 14th birthday prior to January 1 of the current 4-H program year.
SENIOR: Ages 14 to 19. A 4-H member must have passed his/her 14th birthday or be 13 years old and in the 8th grade but not have passed his/her 19th birthday prior to January 1 of the current 4-H program year.
Please call the Extension Office at (575) 648-2311 if you have any questions.